Roger systems is a new digital wireless technology that uses 2.4 GHz to transmit signal from a speaker who uses Roger microphones directly to the Roger receivers that is attached to the hearing aids of the end user. Roger brings 3 key benefits:
Maximum performance - Able to deliver clear speech even at high background noise of 75dB SPL and above.
Zero Hassle - No more frequency channel management such as FM receivers and this wireless technology is license free.
Full Compatibility - Can be used with any brand hearing aids, cochlear implants , streamer and BAHA processor.
Roger Integrated Receivers
Integrated receivers perfectly complement the sleek contours of a Phonak hearing aid and are available in matching colors. Additional Roger integrated receivers are compatible with selected cochlear implants from Cochlear, MED-EL, and Advanced Bionics.
Roger NeckLoop is a wireless Roger receiver that pairs any hearing device with a T-coil to Roger microphones, helping you understand speech better in noisy environments or at a distance from a speaker.
A miniature universal receiver that is compatible with almost every hearing aid and cochlear implant speech processor and functions when connected with an audio shoe or streamer.
A discreet behind-the-ear receiver that minimizes distracting background noise for children with normal hearing but attention-related issues. By bringing a speaker's words directly to the child's ears, Roger Focus II helps the child to focus and understand more.
Versatile microphone designed to make conversations clearer in difficult and constantly changing listening situations. It provides stereo sound and recognizes the direction sounds are coming from.
When placed on a table, this device automatically selects the person who's talking. When multiple conversations are going on at once, the user can manually select whom to listen to.
Designed for working adults who participate in meetings, they can be connected in a MultiTalker Network, which links multiple Roger microphones together so that hearing aid wearers can hear everyone.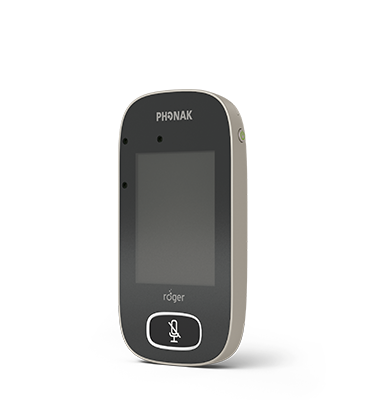 When worn around the neck, the Roger Touchscreen Mic transmits the teacher's voice directly to the student's hearing device as well as to the Roger DigiMaster, helping to hear in noisy situations. 
A small and lightweight accessory that allows up to four devices to be charged simultaneously, making teachers ready for the next day in the classroom.
Advanced soundfield technology amplifies teachers' and students' voices clearly, helping to maintain speech understanding over noise. It helps students achieve academic success² and avoids teachers' vocal strain.
A versatile transmiter featuring audio mixing, the Roger Multimedia Hub allows a teacher's voice to be heard simultaneously with an audio signal and can be connected to any multi-media device or used as a standalone transmitter by a student for audiobooks.
A student microphone designed to enhance classroom discussions. It can be passed from one student to another, allowing the child with hearing loss to hear not only the teacher, but also their classmates.
A wall-mounted device that automatically connects students' Roger™ receivers and teachers' microphones to the room's existing Roger™ network, saving up teachers' time to get students ready for class.
Hearing care professionals can help you make the choice that is perfect for you. They will consider your hearing needs, your budget, your lifestyle and your individual hearing preferences.