Phonak Lumity
Features and performance levels
Features on all Audéo Lumity devices
Adapts and reduces noise from behind in real time and applies and optimizes the signal-to-noise ratio (SNR) in noisy environments. 
Provides optimal gain for speech understanding and listening comfort when engaging in one-on-one conversations in quiet.
Actively reduces noise for increased comfort when no speech is present.
Offers an expanded dynamic range, slow compression speed and more gain for a fuller and richer music experience.
The key feature DuoPhone streams the signal in real time to the other ear so the caller's voice is heard in both ears with an average benefit of 3.1 dB SNR.
auto Acclimatization is used to automatically increase the client's amplification, while the client is using the device. The starting level, speed of the acclimatization and the target level can easily be adjusted.
Environmental balance is a volume modification capability in Phonak hearing aids that allows clients to adjust the volume of the streamed signal versus the surrounding environmental sounds by the press of the volume control.
WhistleBlock differentiates between naturally occurring feedback-like sounds and true feedback. This means increased audibility and sound quality that is free from annoying feedback.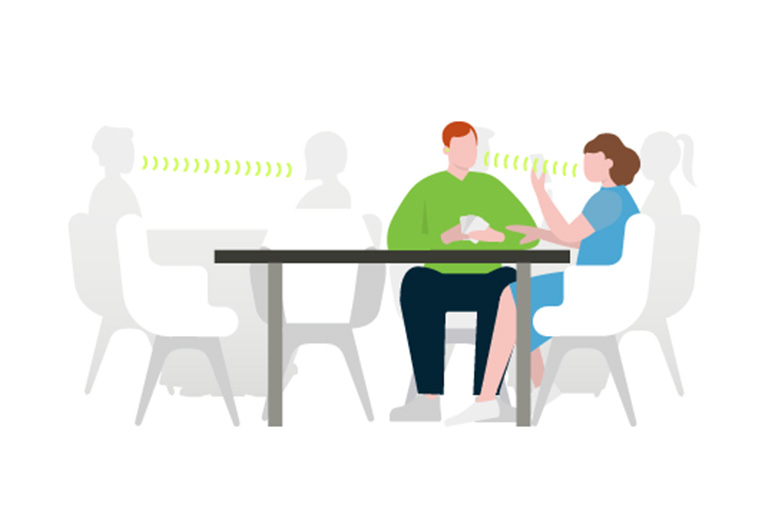 Directional microphone technology is a proven method of effectively improving speech intelligibility in background noise. UltraZoom is the adaptive multi-channel beamforming technology, automatically available in AutoSense OS or in a manual program.
One-touch controls two. The instantaneous broadband transfer of data between two instruments ensures that volume and program settings are always balanced and synchronized. One touch on the program selection button or volume control results in instant identical change in the other instrument.
The next generation of SoundRecover further improves speech audibility and utilizes an adaptive frequency lowering algorithm. Sound quality of mid and low frequencies are maintained while high frequency sounds are made audible. This creates an optimal listening experience for more users than ever before.
Hearing care professionals can help you make the choice that is perfect for you. They will consider your hearing needs, your budget, your lifestyle and your individual hearing preferences.
Footnotes
*In order to access health data, it is necessary to create an account within myPhonak app.