Swiss Medicare Sdn Bhd is a medical solution provider which specializing on audiological solution range from Hearing Instrument, FM system, Equipment solution, maintenance accessories. Swiss Medicare Group has a comprehensive wholesale hearing care center network throughout entire Malaysia and strong presence in Brunei. Swiss Medicare Sdn Bhd has been certified with GDPMD status and granted with medical product license by Medical Device Authority, Malaysia.

Swiss Medicare Group is the exclusive local principle, importer, distributor appointed by PHONAK and AUDITDATA.
Phonak, main brand portfolio by SONOVA AG, is a world leading and renowned Hearing Instrument manufacturer with its headquarter located at Switzerland. Phonak is well known as an innovative brand with technological advanced hearing system and wireless communication solutions for audiological application. To date - Every 1 out of 5 hearing users is wearing a PHONAK product.
Auditdata A/S was founded by Claus Bak Petersen in 1992. From the very beginning, Auditdata has been dedicated to the development of software applications for the health sector, including modules for programming digital hearing instruments, technical and administrative software systems covering all functions in a hearing clinic. Over the years, they extended the solutions to provide audiological equipments and their core beliefs in business is to keep their utmost professional services and usability of products for their partners. They have a coverage of 48 partners in 35 countries including Malaysia.
Phonak's broad variety of hearing aids are designed to meet every person's specific needs and lifestyle. 
The Roger portfolio allows people of all ages with hearing loss to fully participate in school, work, and in their social life, even in noisy or challenging listening situations. 
Whether you're watching TV or having a one-on-one conversation, Phonak's wide range of hearing aid accessories were created to boost the performance of your hearing aids.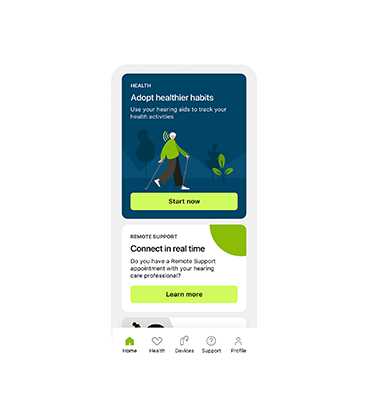 Phonak's free, easy-to-use smartphone apps feature an enhanced user experience so you can get the most out of your Phonak devices when you connect them to the app.
Serenity Choice earplugs are high-end hearing protection solutions designed to reduce noise and loud sounds while allowing the ear to breathe and keeping relevant sound and speech.
Take our 3 minutes online hearing test.
Hearing care professionals can help you make the choice that is perfect for you. They will consider your hearing needs, your budget, your lifestyle and your individual hearing preferences.